On August 1st, 2013 my Ukrainian wife delivered our son, Andrei in her hometown hospital, here in Lutsk Ukraine. As I write, I'm sitting beside his bassinet as he sleeps. In this moment of calm, I'd like to describe for you what it's like to deliver a baby in Ukraine. Let me tell you: It's a weird system over here.
As a Ukrainian citizen, my wife's health care is free. In fact, as I've mentioned elsewhere, they pay women to have children: $4K for the first, $7K 2nd, etc. But that's not the weird part I'm talking about. The weirdness in their system is in the tipping. Again, bear in mind the doctors are paid (though Lord knows how much…probably a few hundred bucks per month.) Therefore, those couples who can afford to pay the doctors and nurses, do. In cash. Hand to hand.
(Below: Birthing Room In Ukraine)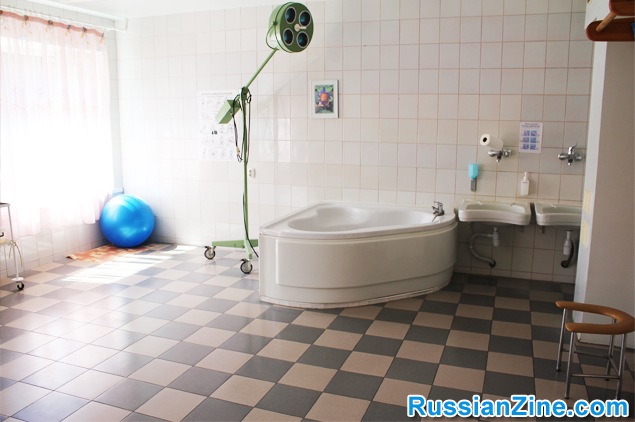 Yesterday, my wife's father and I tracked down one of the two delivery doctors. We thanked her, and I insisted on handing her an envelope "to say thank you." She refused, refused…part of the game, of course…and we insisted, insisted. Finally, she acquiesced. Same exact scenario with her gynecologist, and with the other surgeon (though he was a bit less vocal in his refusal.)
How much to pay? That took some research. My wife's mom is friends with one of the nurses, and she told us the standard tipping amount: About $200 to each of the two delivery doctors, about $60 to her gynecologist, $60 to the anesthesiologist, and progressively smaller amounts to the variety of doctors and nurses who pop in for this or that test. The amounts are a pittance — 20 grivna to a nurse who helped change Andrei's first diaper? — that's less than $3. But it's frustrating having to do it, and guessing whom to pay, and whom not to, and how much, and when.
The other weirdness is the a la carte system: Every needle, every bandage, every medication, every everything, I gotta run down to the pharmacy on the 2nd floor to buy. Having a C-section? Mark, run down and buy the C-section kit. (I'm not making this up. I had to actually do that.) Everything is cheap, but again, it's the nickel-and-diming of it all. Can't you just bill me an exorbitant fee on the way out, like a normal hospital? At one point, I thought I misheard the price. I was paying for a host of things, syringes, meds, whatever I thought — or really assumed – she was saying, "Four hundred twenty grivna" (which would be about $50). That seemed reasonable, given U.S. prices. But no, it was four grivna, 20 kopeiks…(less than $1 U.S.) Again though, it's not the prices, it's the hassle. And speaking of paying, we (without hesitation) requested the VIP room. For about $90 you get your own room (pictures below), with your own bathroom and shower, fridge, etc. (I remember asking, "$90/day? That's not bad." — No. It's $90 total for the five days.) There are only two or three such rooms in the whole hospital, so we were quick to jump on the offer.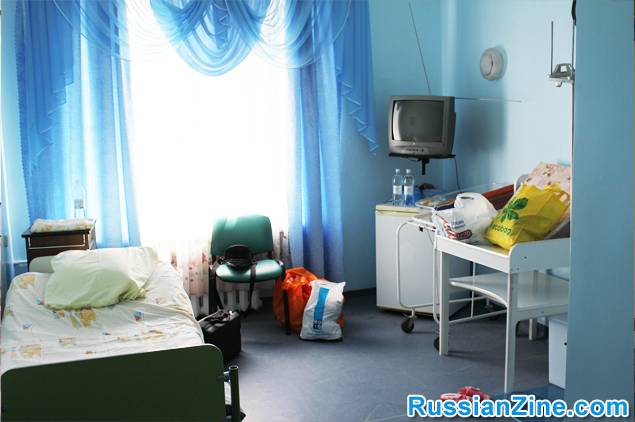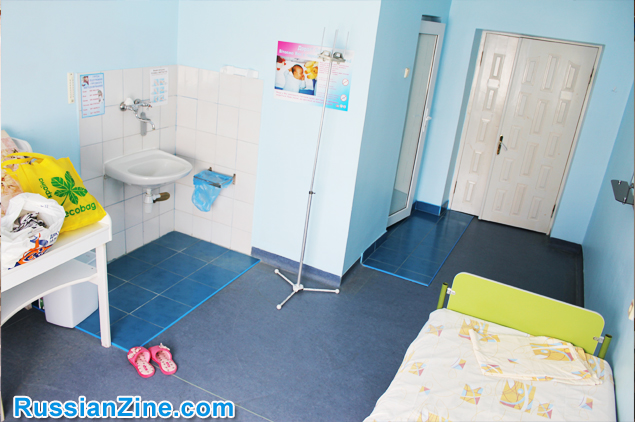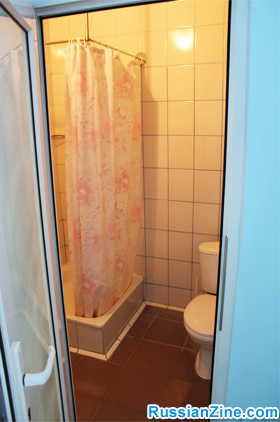 I should close with a final, public word of thanks to my wife's parents. Their help has been above and beyond anything we could have asked for. Her Dad picks us up anywhere, to drive us anyplace, at any time, and wait as long as necessary, carrying anything and everything that needs carrying, just so I can support my wife as she walks. Her mom, meanwhile, will cook anything at any time (i.e. cooking me soup and meatballs at 1am so that I'd have lunch in the hospital the next day without having to leave.) She also cleans, irons, folds and packs whatever laundry is needed. And yesterday they spent all day cleaning and dusting our apartment in preparation for our arrival back home.
In short, having a baby in Ukraine has been an amazing experience!