Article and images by Anelore Anderton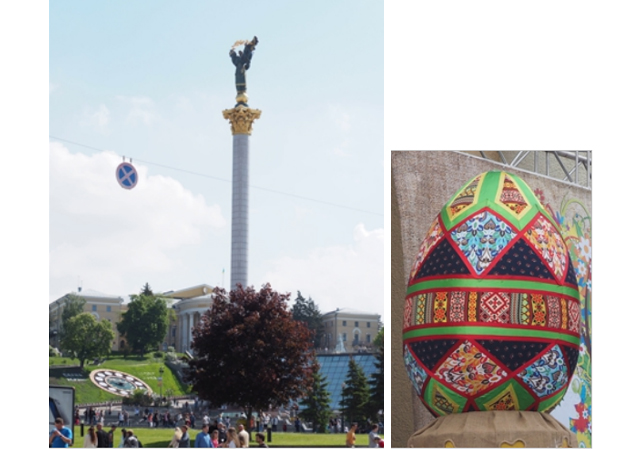 After an absence of nineteen months my husband and I returned to Kiev and Poltava. We arrived in Kiev on Easter Sunday (1 May) and found ourselves in the midst of Pascal celebrations and activities. The picture outside St Michael's cathedral shows an arched tunnel with people going through tapping eggs. Apparently it is traditional to greet friends and family by tapping eggs and reciting 'Christ is Risen'.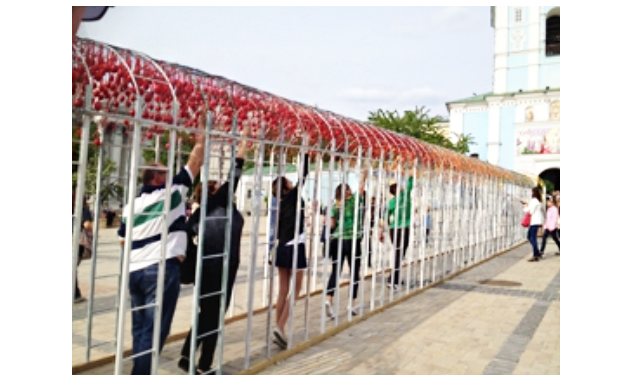 Easter celebrations seemed to continue for most of the week. In Poltava, on the following Friday, the theatre square and mall were set up with numerous displays, mostly by students from many schools in the region. These included traditional crafts such as embroidery and even a display of egg painting. Singing and dancing featured on open-air stages in both places, contributing to the festival atmosphere.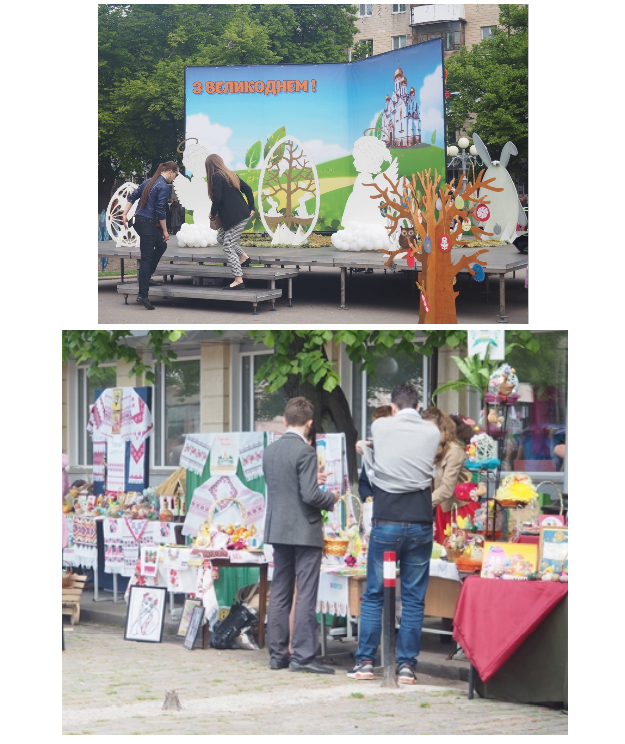 May is also the time when lilacs, tulips, peonies, and chestnut trees flourish. Spectacular displays in Kiev's Botanic garden are popular with the locals and well worth a visit by tourists. The park is situated on the right bank of the Dnieper and panoramic views across to the city on the left bank can be obtained from several observations spots. It is a beautiful, relaxing place in the city, easily reached on the metro.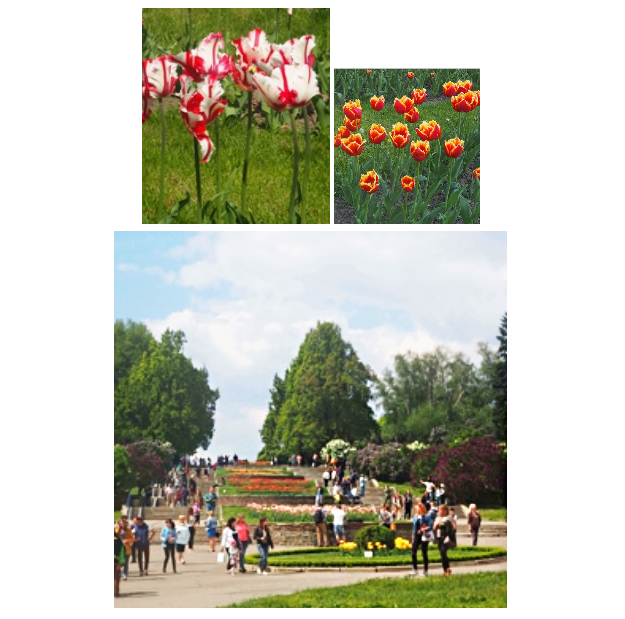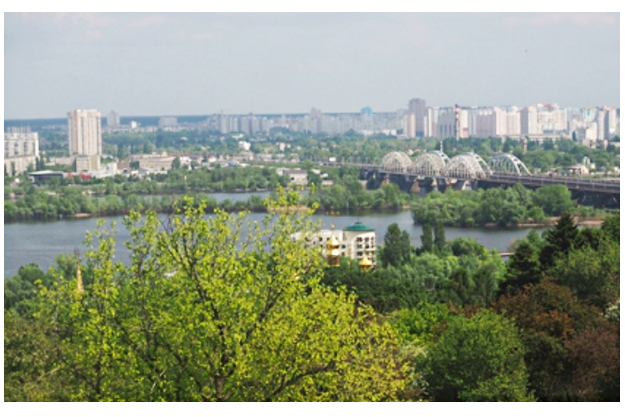 The dense tree coverage in parks throughout Kiev and Poltava is remarkable! Early in May before the summer flower gardens have started to bloom, the spaces are a green oasis that allows one to connect with nature. Tree-lined boulevards, with pedestrian paths and seating, enable people to enjoy a pleasant walk to their destination or congregate and socialise, as do many of the young locals on a weekend or holiday evening.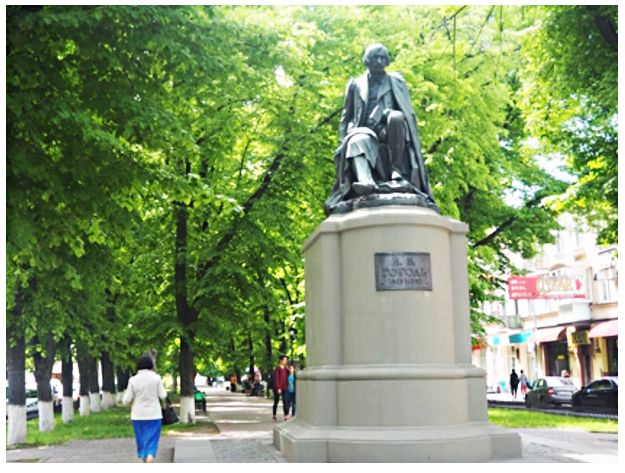 Khreschatyk street, the main street, in Kiev closes down to traffic on the weekend and public holidays. Families as well as singles, young and old casually stroll down this highway and the space becomes an entertainment precinct. Over the Easter week and Victory Day celebrations, singers and dancers performed and there were many activities for children, including drawing lessons and competitions. I was amused to see children drawing on the road with chalk, just as my young granddaughters do at our home on the backyard patio ground.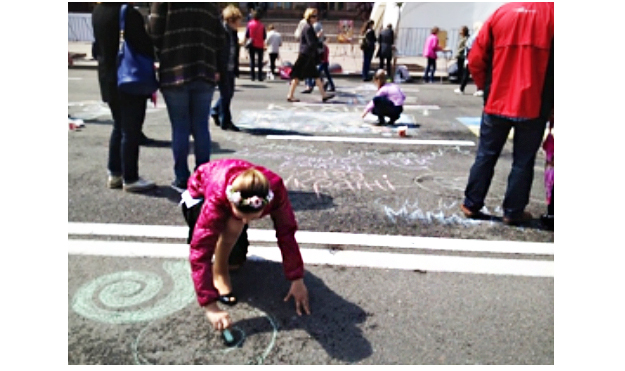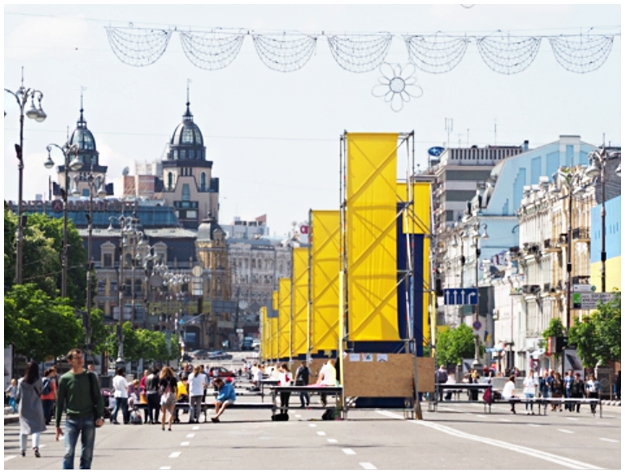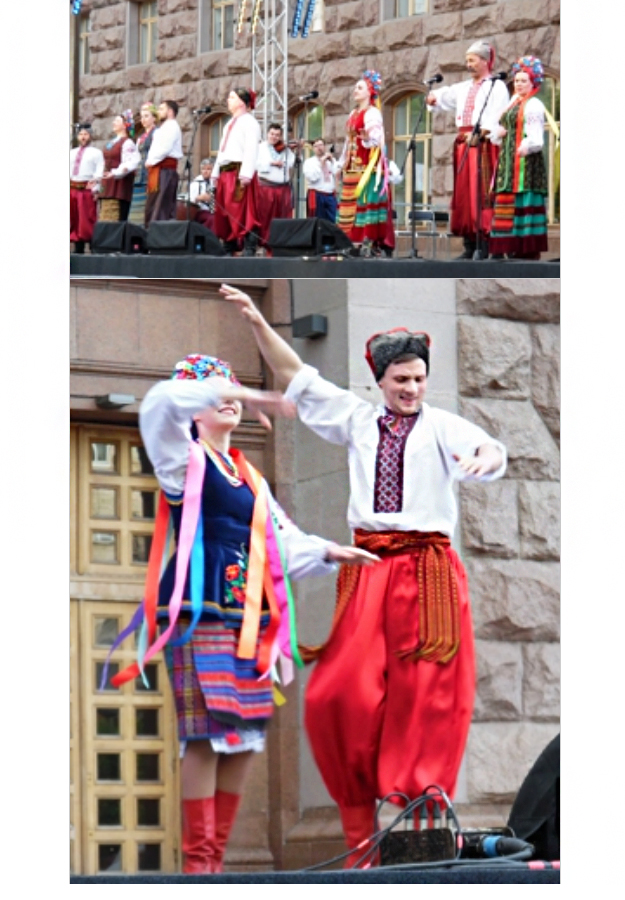 We are now very familiar with Kiev, and find the metro a cheap and efficient way to get around. The buses and marshrutkas are also efficient and an interesting experience as crowded vehicles mean that passengers and conductor often can't reach each other and therefore rely on fellow travelers to pass money and tickets back and forth from one end to the other. Our favourite accommodation is the Ukraina hotel that is situated on the hill with a commanding view over the Maidan.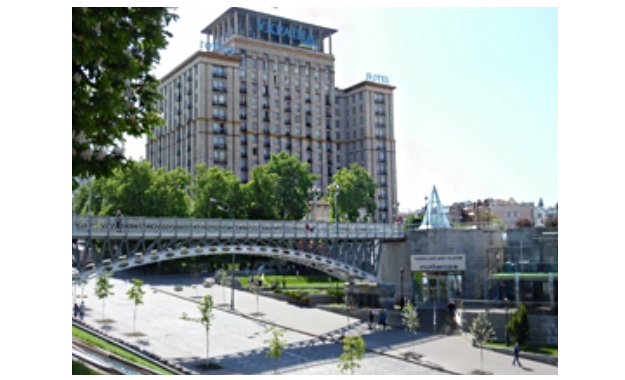 On our last visit in 2014 we found a subdued atmosphere in these places, however this year there was a more buoyant spirit. Many shrines on the Maidan remain and the war in the East is a shadow in peoples' lives. I accompanied a friend to a volunteer run workshop where camouflage nets were being made, out of rags and hessian bags, to help the war effort. A former soldier also spoke to young tertiary students and it is this reality of life in Ukraine that is most confronting. It is a tragedy that such a beautiful country with so much potential needs to squander its resources repelling yet another invader!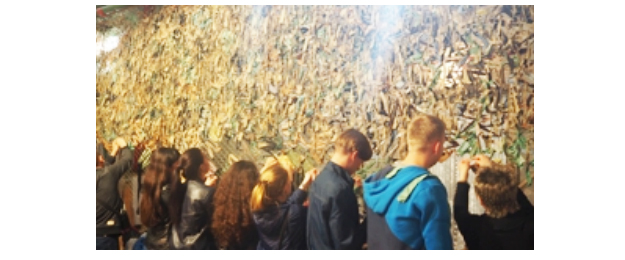 Whilst I wouldn't travel to a conflict area, Ukraine is as safe a place to visit as any. There are many museums, wonderful theatre experiences and countless geographical and historical locations to visit. There is more to see and do than is possible in just a short stay, hence I will be returning again! In addition, the food is excellent, the currency exchange rate makes Ukraine an inexpensive holiday destination and this Eastern European country offers tourists both the exotic and familiar. And for fellow students of Russian Accelerator this latest visit has motivated me to continue learning Russian as the lessons have enable me to speak a little in one of Ukraine's languages!