Why Travel to Odessa, Ukraine?
WHY VISIT?: Odessa has a great mix of beach life, culture and nightlife that appeals to travelers the world over.
HOW TO GET THERE: Unless you're well-versed in Ukrainian train travel, or are traveling with someone who is, it's best to fly into Odessa. If possible, arrange for ground transportation ahead of time, to avoid paying outrageous cab fares.
WHERE TO STAY: Below I've listed four options, in order of increasing price. If you've read any of the other city reports on this site (like the one about visiting Kiev, or Sevastopol, and so on), then you know that our preference tends to be renting an apartment instead of a hotel. Still, Odessa has good choices for both options. Here's a sample…
Rent an apartment  –  Price $50 – $100 /night
The last time I went to Odessa, I rented an apartment from this company: http://rentodessaapartment.com
…but just type "rent apartment in odessa ukraine" to find other apartment rental companies. Of greater concern than the company you use is the location you decide to stay in. On my first trip to Odessa, I rented an apartment by the park, down by the Arcadia beach section. (See photos)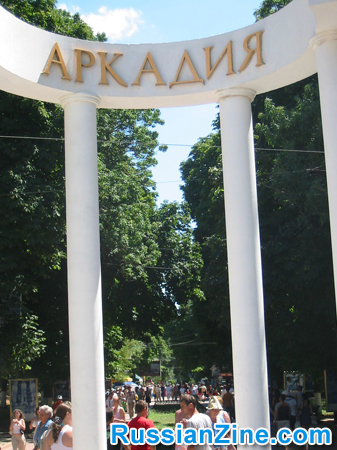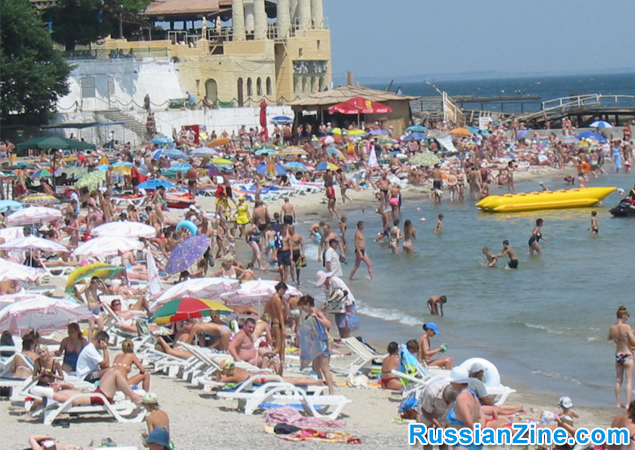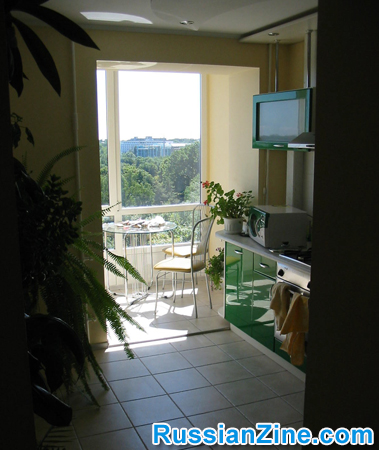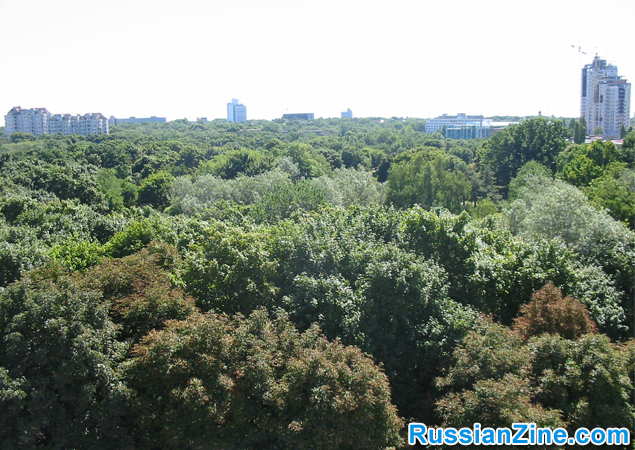 It sounded like a good idea at the time, but – as I discovered — Arcadia is really for families during the day. True, they have a lot of good clubs there at night (which I'll detail later in this report), but on my return visit I opted for more daytime choices by staying closer to Deribasovskaya, which is Odessa's main walking street.
Continental Hotel  –  Price approx. $200/night for a standard room during the summer
A little over $200/night for a standard room in the summer isn't too bad. The Continental is located on  Deribasovskaya (again: This is where you'll likely want to be.) And it's just a few minutes walk to the Odessa opera house, which is perhaps their most famous (and beautiful) landmark.
But, a litle more money buys you better beach access….
Hotel Otrada   $250/night for standard
The hotel is near a nice beach of the same name: Otrada Beach. The beach itself is a five minute walk downhill, though the hotel offers a free mini-shuttle. But look at the map I've included: It's quite a walk north up to Deribasovskaya St. So, you need to decide if you want a beach vacation, or more of a city/walking kind of trip. Anyway, here's their website in English, to give you more details:  http://en.hotel-otrada.com
And finally, a bit more money gets you a very classy place…
Villa Le Premier starts at about $300
If you think the Otrada Hotel was far from Deribasovskaya, this is further still. It's truly at the far southern end of the city, and a long, uncomfortable cab ride up to the center. But it's probably the coolest resort in Odessa. It has a classy, Vegas-like feel, an awesome pool, and true five-star feel throughout. (Admittedly, I've never spent the night there, but my sister and brother-in-law stayed there, so I spent an afternoon with them on the property.) Here's their website http://lepremier.com.ua/home_en.php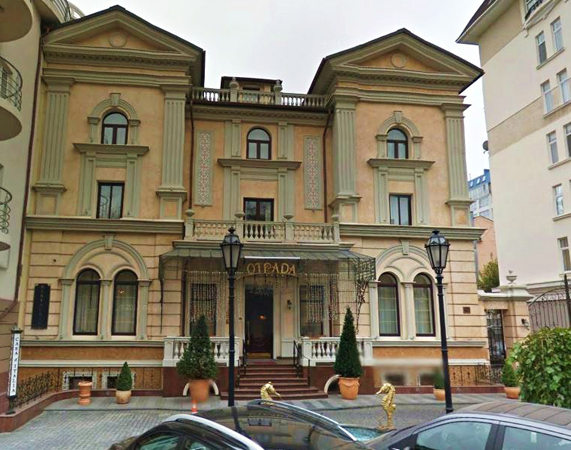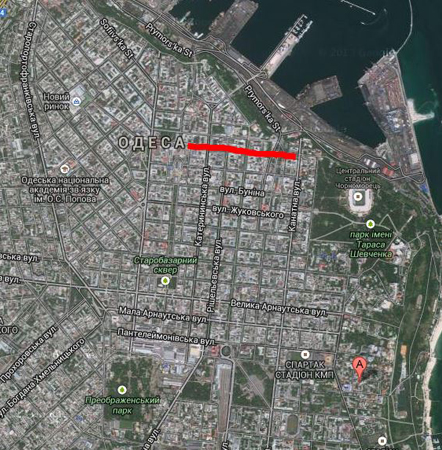 BEST PLACES TO EAT: My first recommendation is a cafe with the quirky name…
Top Sandwich:  (ТОП СЕНДВИЧ  in Russian). (See pics to know what you're looking for.) I think there are at least two 'Top Sandwich' cafes on Deribasovskaya alone, so it won't be hard to find.  They have both European and Japanese (i.e. sushi) cuisine, and tons of choices. The cost is fair for the quality you're getting, but be prepared for a long-ish wait.  Deribasovskaya 14
Kompot: (In Russian: КОМПОТ) This is another great cafe directly on Deribasovskaya, and has nice outdoor seating. Сompote, by the way, is a light fruit drink made by boiling various fruits in water, then filtering out all the fruit bits. I'm not sure why Russians love it so much. It tastes to me like water with a hint of fruit. But back to the cafe itself: Every dish I've tried there (either that I ordered, or when snacking off my wife's plate) has been delicious.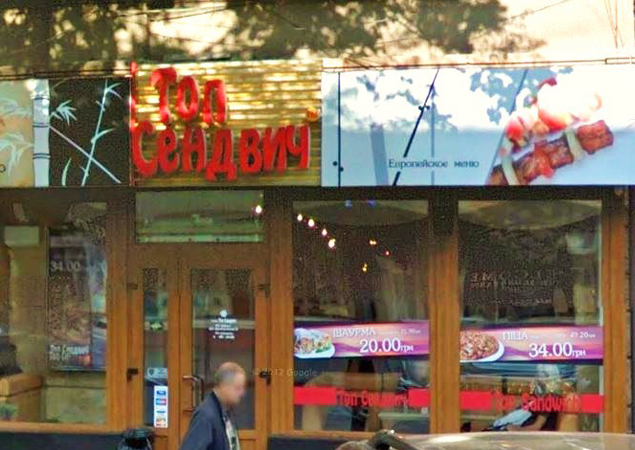 Kumanets: Kumanets offers a fairly authentic Ukrainian eating experience, in that the staff all wear traditional Ukrainian garb. And certainly the food itself is authentic. As with any Ukrainian restaurant, I'd recommend the borsht (beet soup), which is their national dish.  I believe Kumanets has the same owner as the adjacent pizzeria, Olio's Pizza. So, if some people in your party don't feel up for Ukrainian food, you have a safe alternative right next door. (See map for directions from  Deribasovskaya.) 7 Havana St.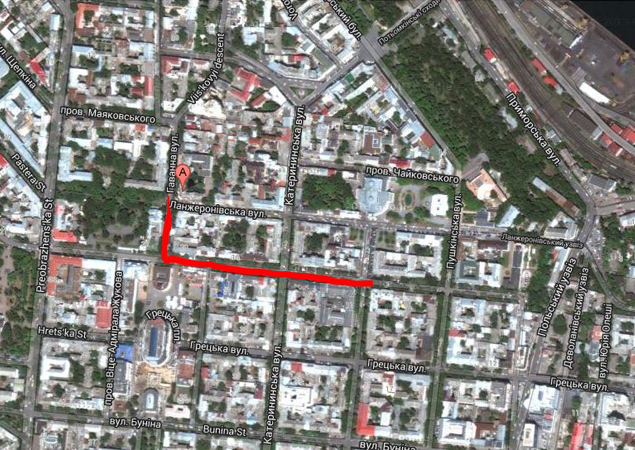 Buffalo 99:  Not that every good cafe is located on Deribasovskaya in Odessa. If you like American sports bars (or want to hang out with some American ex-pats) then pop in to the Buffalo 99 sports bar, on 7 Ришельевская улица (7 Rishelvskaya St.). Expect all the standard fare, from beer to chicken wings. Here's their site, where you can find their menu and other details in English.  http://buffalo99.com.ua/en/index.php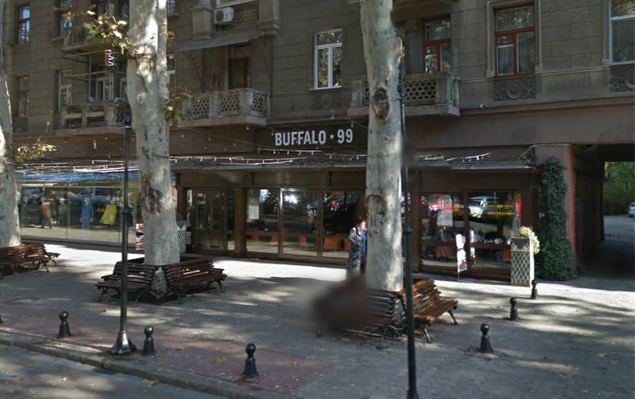 Upscale Restaurants:
Odessa is a big city with over one million residents, and is geographically large, too, being spread out rather than built up. It thus has hundreds of restaurants located all over, many of which are very high quality. Really, there are too many to list, especially in the upper-echelons. But here are some worth mentioning, if you're up for a fancier meal than you can get from the cafes I just mentioned:
Jardin: (on Havanna St. 10): Awesome food, excellent setting and atmosphere. Romantic.
La Veranda Restaurant & Bar: (Bunina Str 21) Waiters have the best English in the city, in my opinion.
Small menu, every dish I've tried is excellent. Go once and you'll likely return, as we did.
Sophie Cafe:  (7, Nekrasova lane)  Never too crowded. Great service. Great seafood. Romantic.
Restaurant(s) in the Mozart Hotel: (Lanzheronovskaya St. 13) The Mozart Hotel feels very European, inside and out. It's in the perfect location, dead center of Odessa's old town. This place is pricier, but worth it for the setting alone. Two restaurants to choose from, both very good. (Figaro and Mozart.)
HOW TO GET AROUND:
Like all Ukrainian cities, Odessa has local buses ad minivans following fixed routes. But unless you're certain about the route that the bus is taking, it's best not to risk it. They're also crowded, and hot 'n' stuffy in the summer. This is why it's so important to carefully choose the location of where you want to spend your time in Odessa. As you explore Odessa you'll either be on foot, or in a cab. Here are three cab companies I've used:
President (VIP service) (+380 482 321 333)
Udacha (+380 48 733 1515)
Caprize (+380 482 355 888)
Avoid taking a ride from a cab that you approach on the street (or from one who approaches you.) If you need a ride and don't have a phone, ask a hotel to call one for you. You only want to take metered cabs in Ukraine…believe me.
WHAT TO SEE & DO: I've mentioned Odessa's main walking street at length already, but it needs to be put officially on the 'What to See' list, as well…
Landmarks:
Deribasovskaya St: (walking street) Perfect place to people watch, grab lunch, and start (or end) your day in Odessa.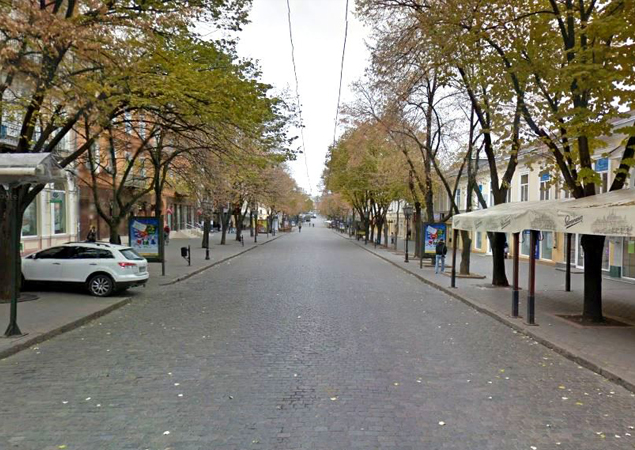 Primorski Park:  This short, straight park is bounded by two important Odessa landmarks: The Potemkin Steps at the north end, and the Transformation Church at the southern end. Speaking of those steps…
Potemkin Steps: What makes the famous Potemkin steps so interesting is that they're a giant optical illusion. Looking down them from the top, you mostly see just the landings. (Except for the first row at your feet.) But looking up from the bottom, the landings disappear and all you see are the steps. Very clever. (See pics)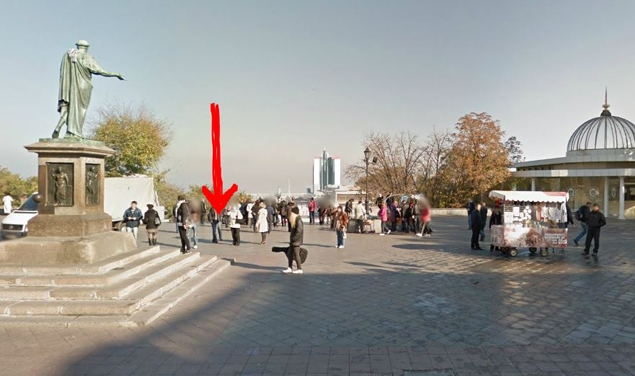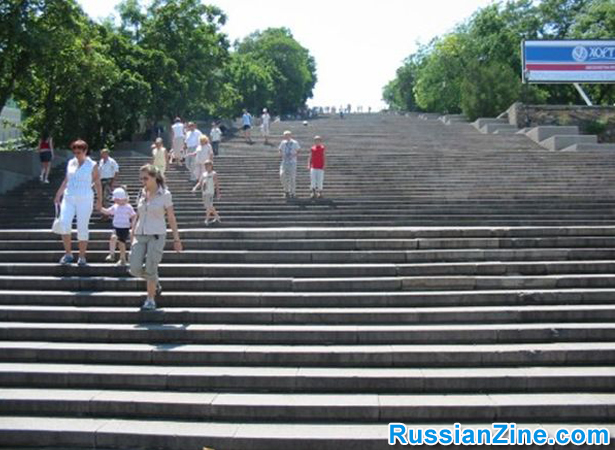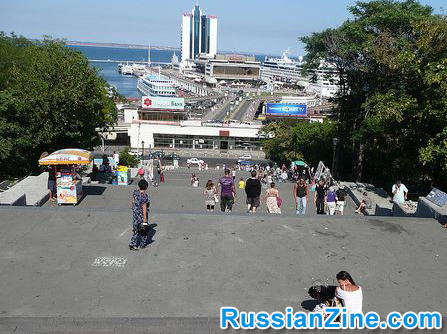 Opera house: This is the round building you'll see on the majority of tourist sites and brochures, and is certainly the most famous building in Odessa. If you actually want to attend an opera or ballet there, get your tickets early. Here's a link to their site that's primarily in English… http://opera.odessa.ua/en/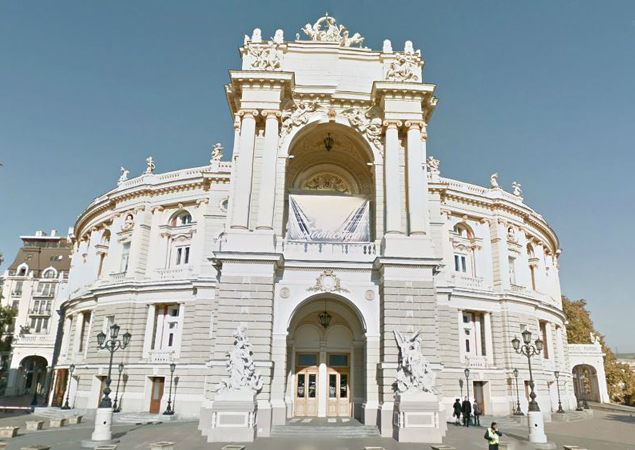 Beach districts:
Don't expect the same pristine kind of beach-going experience you'd get at a resort in Hawaii or Florida. In Ukraine, things are a bit less refined. That being said, here are the three main beach areas in Odessa:
Lanzheron Beach: is the closest to town. You'll also find the dolphin-arium there, and some clubs at night. The main attraction though is simply its proximity to the city center. To get down to the beach, just make your way to Shevchenko Park and take any path towards the sea. (See the map.)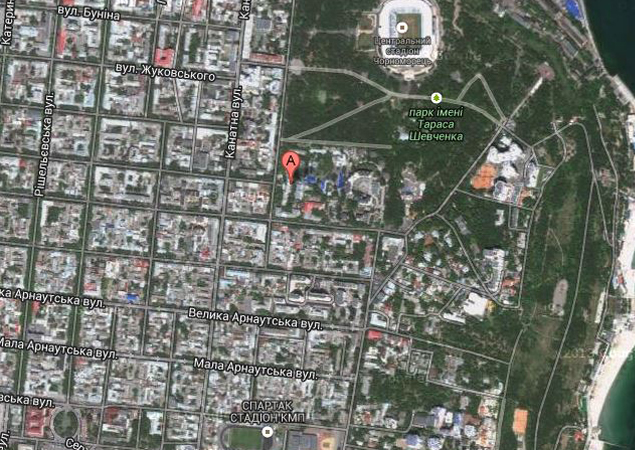 Arcadia: The southern beach district called Arcadia seems to be the most popular one in Odessa, but in my experience it was mostly for families. It's also very crowded in the summer. (Though for many people that's exactly what they're looking for in a beach.) But as I mentioned earlier, Arcadia beach is far removed from the central part of Odessa up north by Deribasovskaya. So be certain that this is where you want to stay if booking an apartment in this region.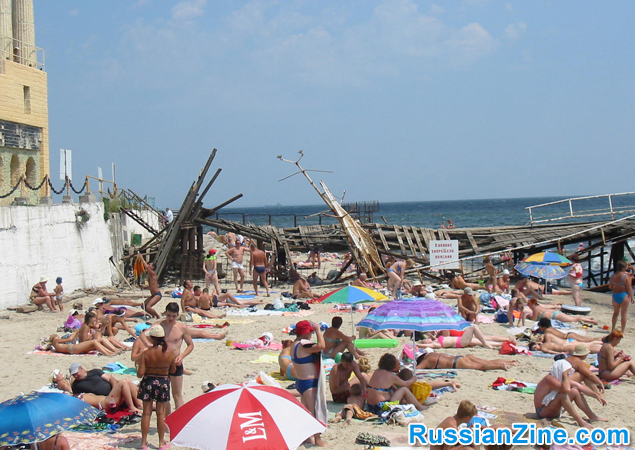 Gold Coast: (Zolotoi Bereg /  Золотой Берег)  Odessa's Gold Coast is twice again as far from the old town as Arcadia is, but it has a more exclusive feel. Looming above the main beach there is a complex of private villas by the same name. On their site they give the illusion that the beaches there are private, (see the photo from their site) but all beaches in Ukraine are public access.
Shopping
Passage:  (ПАССАЖ): Passage is an ornate, indoor mall across from the city garden on Deribasivskaya 33. (See the photos of the interior and the entrance itself). The baroque décor alone is worth the visit. And there are a variety of shops for all kinds of budgets.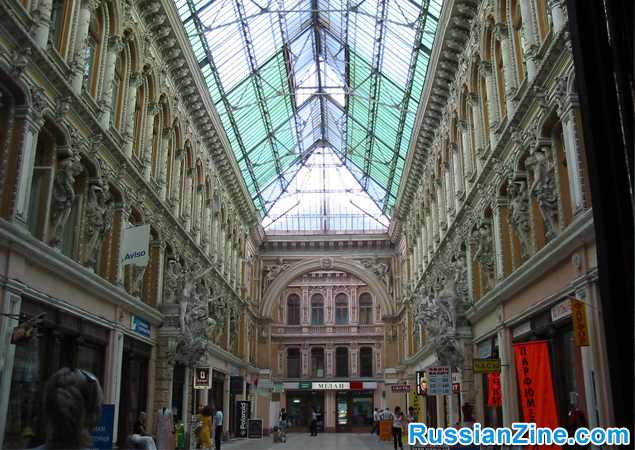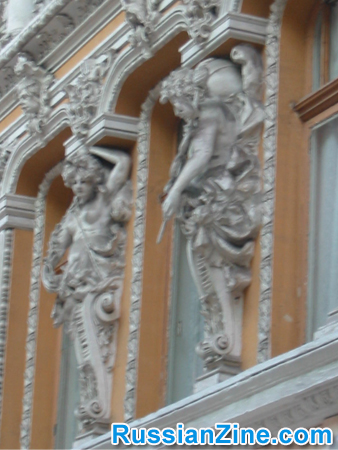 Evropa Mall: (ЕВРОПА): Also located directly on Deribasovskaya 21, this is another very convenient mall. For me the highlights are the deli market and the cafe on the 7th floor which has a great view of the old city.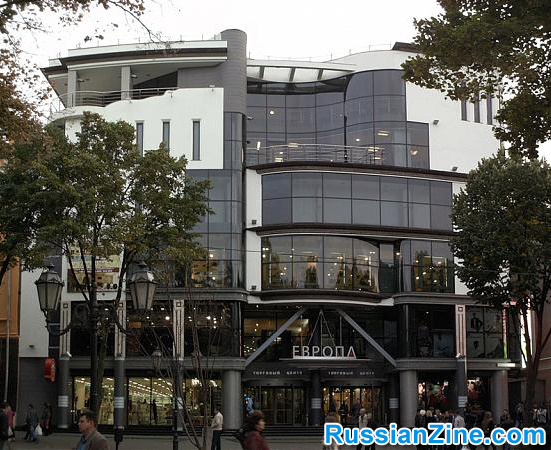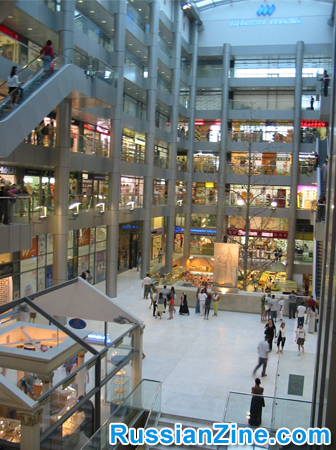 Afina Mall: Afina mall is a circular-looking mall located on Greek Square, just off of Deribasovskaya. (You'll see the blue windows down a sidestreet as you walk Deribasovskaya St.) There's nothing spectacular about the mall, but it's worth going in to and taking a look if the above two malls didn't fully satisfy your shopping needs.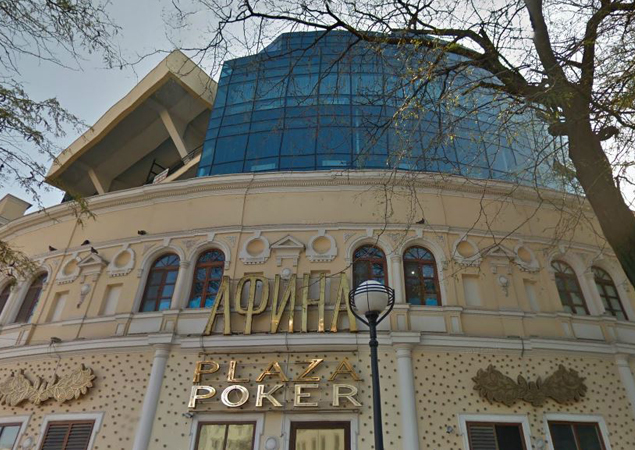 Riviera Shoppping City: This seems to be the largest mall in Odessa but it's also the furthest out of town. Still, it's worth a mention if you have your own transportation. It's huge, so there are things to do besides just shopping, including bowling, billiards, go kart racing, a movie complex, a kids zone, cafes, and so on.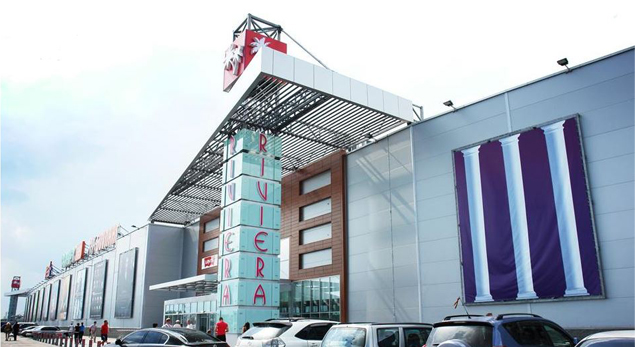 Bars & Nightclubs:
Thankfully, Odessa doesn't seem to have nearly as much of a Face Control issue as Moscow or Kiev do. (Go HERE to read about Face Control.) But what's hip one day can be old news the next, so it's little use telling you what clubs are best as I'm writing this. The only thing that's relevant to you is what's popular the very night you go out. What you need to know for Odessa are the general areas to go to. And in this case, there's really just two main districts to mention:
Arcadia Beach:
When the sun goes down, the family beachgoers go home (and take cover) and the jet-set partiers come rolling in to Arcadia. The boardwalk has a string of clubs, for ex…
Ibiza: I love this place! The open air design – like a set of white cliffs – is amazing. (See photo.) Assuming the crowd is good that night, this would place high on my list.  http://ibiza.ua/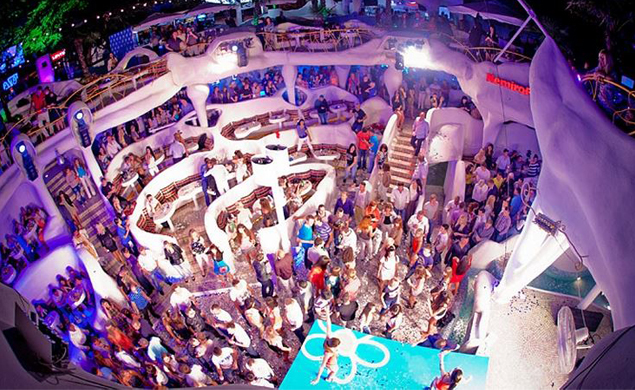 Itaka: Russians have no "th" sound in their alphabet, so the Greek city of  "Ithaca" after which this club is named becomes "Itaka" in Russian. This club is a mainstay of the Arcadia Beach party scene. For whatever reason I've always prefered the more socially interactive Ibiza, but for dancers, Itaka is the place to go.  http://itaka-club.com.ua/en/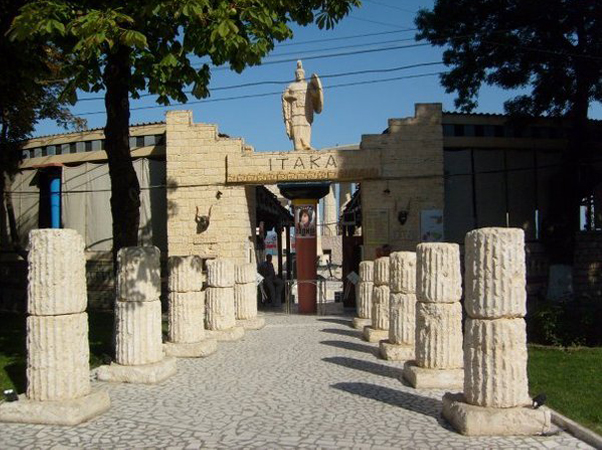 Honorable mention: The insulting-sounding: Assol Club. (I'm not making that name up, I swear.) Shaped like a sailboat, it's hard to miss. And another favorite of mine is WESTERN. The drinks are cheaper, and people much more laid back. Not so VIP-ish.
Center of Odessa / Old Town
Captain Morgan's 30: Zhukovskogo str.   It's a fairly unassuming club from the outside (see photo), but on the inside this is one of the major nightlife hotspots of Odessa. A friend of mine had trouble with Face Control here, so dress up and act rich. Not a lot of room for dancing, but the atmosphere is great, very social…and great food, too. There site is still in Russian only, though I was told they're working on an English version: http://www.morgan-club.com.ua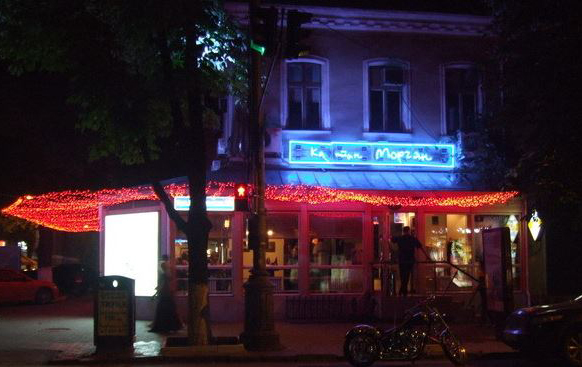 Yo (Russian: Ё)  On the southeast corner of the rather international sounding intersection of Greek and Polish streets is a hip, modern club called 'Yo.' (The letter Ё in Russian is also the start of a mild curse: Yo Mai-yo.) Just a stone's throw from Deribasovskaya, this is another must-see club in the center of the city.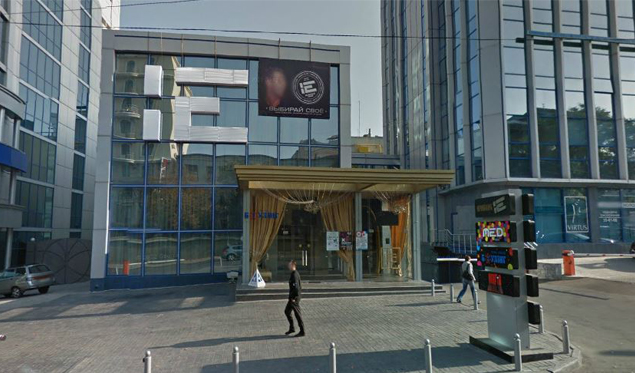 OFF THE BEATEN PATH: With all that beach going and partying you've been doing, why not step off the beaten party path and into a calm, soothing art museum. Located at Sofiavskaya 5, in the city center, Odessa's art museum has a great collection of classic European art. The building itself is beautiful, and a leisurely stroll through the galleries will bring a state of much-needed calm before the storm of your next Odessa adventure.