WHY VISIT?: One of the largest cities in Russia, and located on the banks of the legendary Volga River, Nizhny Novgorod is a great example of modern-day Russia.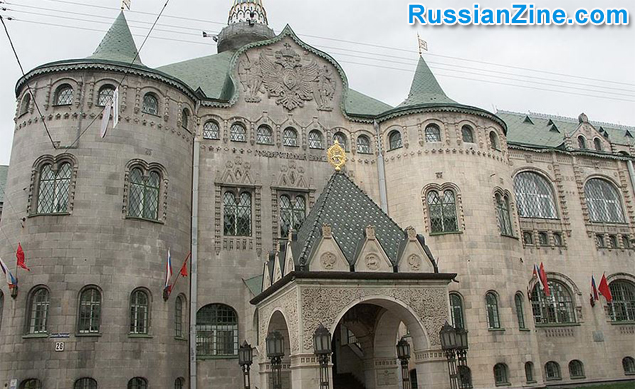 HOW TO GET THERE: Nizhny Novgorod has an international airport. But if you're coming from Moscow, consider riding their new high-speed train called Sapsan. You can buy tickets here, though they still don't seem to have an English version of their site: http://sapsan.su/rail-tickets.htm
WHERE TO STAY: The best of the luxury hotels is probably…
Alexandrovsky Garden Hotel
Although its exterior doesn't blow me away (it looks like an industrial style shopping mall) the inside feels VIP. And you'd be hard pressed to beat the location. It's on the Volga River in the historic center of Nizhny Novgorod and right near the Kremlin.
http://www.achotel.ru/en
Ibis Hotel:
In my opinion, the best mid-range hotel is the Ibis hotel (part of the international chain). It's a safe, if somewhat boring choice.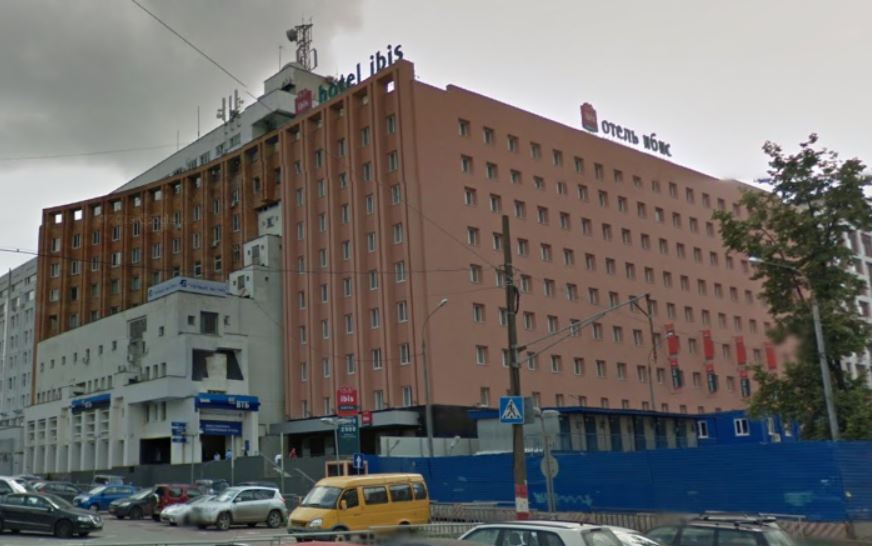 For the best deal, I recommend renting an apartment. Here's the site we usually use:



http://www.insouz.com/nizhnij-novgorod-en/
WHERE TO EAT
Looking for the comforts of home? As in all major Russian cities, western style fast food chains are sprouting like the beloved Russian mushroom. There are, at last count, six SUBWAY stores in the city.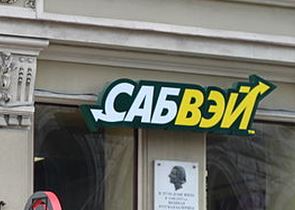 Some on the streets, some in shopping malls. And at least as many McDonalds. And for Brits looking for a taste of home, check out the popular Angliskoe Posolstvo (The English Embassy), which is apparently a rather accurate recreation of an English pub. But assuming you'd like to sample local fare, then here are our recommendations:
Pyatkin
Pyatkin is run by the same group that manages the above-mentioned Angliskoe Posolstvo English pub. It's in a great location near the river, with great food and an authentic interior….you feel like you're sitting in the dining room of a Russian merchant from the 1800's. It's on Rozhdestvenskaja St, 25, though any cab driver will know where it is. It's on the pricey side, though, because it's aimed squarely at tourists, but they've always lived up the the hype.
http://pir.nnov.ru/pyatkin/
Robinzon
I'm assuming this place is named after Swiss Family Robinson, since it's located on the Volga by a beach, and it's in a Swiss-chalet style. If the crowds and weather permit, try to get your own Tiki-hut outside. Great views of the river, fair prices, fun atmosphere. On Gribnoi Canal, bldg 108.
Kafe Okura:
Good sushi, good prices, and great location, right on Nizhny's main walking street. Located on Bolshaya Pokrovskaya, 27.
http://okura-nn.ru/
WHAT TO SEE & DO
Bolshaya Pokrovskaya Street: This is the main walking street in Nizhny Novgorod and one of the nicest ones in all of Russia. You'll likely be spending a lot of time "Na Pokrovkyeh," as the locals say. ("Na" in Russian translates as "On", so when they say, "Na Pokrovkyeh" they're saying, "On Pokrovka.", their nickname for the street.)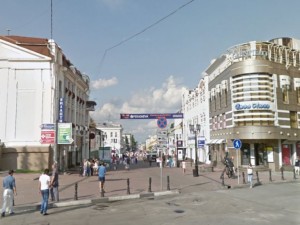 I love all the bronze statues you find along this street: the couple from the 1800's holding hands; the little boy playing violin; the Kazakh warrior with his huge mustache; the mail courier with his bike, bag and uniform; and – my favorite – the guy on the bench who looks like he's about to stand up to give you his seat.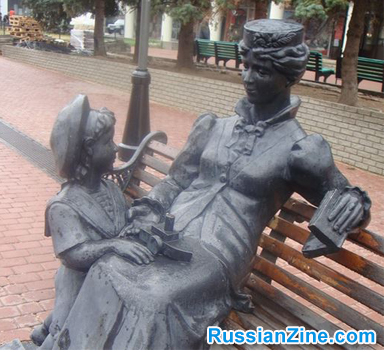 I also love the architecture. Wait til you see the state bank…it's an amazing building!
The Kremlin
Basically every main city in Russian has a Kremlin, which is the Russian word for "fortress". They're relics from Medieval times. The one in Nizhny though, is relatively small and seems focused on Soviet war equipment.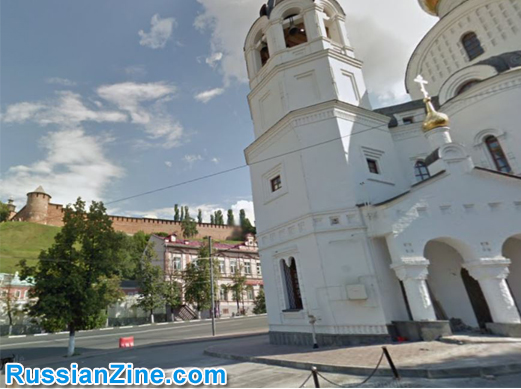 GAZ Car & Truck Museum
If you like cars, this museum is a must-see! All sorts of classic Soviet vehicles are on display here. Beware that they're only open on weekdays, though.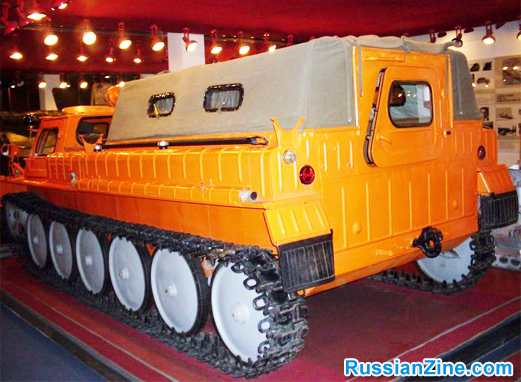 Address: 95 Lenin Prospect Their website is as bare-bones as they come, but the key info is here:
http://www.russianmuseums.info/M2547
Beaches:
As people sometimes say about certain cities, I'd say about the beaches in Nizhny Novgorod: It's a nice place to visit but I wouldn't want to swim there.


Still, the beaches make for some good photo-ops.
Cablecar Across the Volga
The system is relatively new and feels safe. The ride across the river takes about fifteen minutes and obviously offers a unique view of the city. The line to ride it was a short wait when we went, but I've heard the lines can get Disneyland-long at peak times during the summer. Note: There's not much to do at the appropriately named destination: Bore. So best to just get in line again and ride back.
The Chkalov Stairs:
For a great workout try jogging up the 560 stairs to the Chlyakov Monument. The view from up there to the river below is excellent. (See map for their location)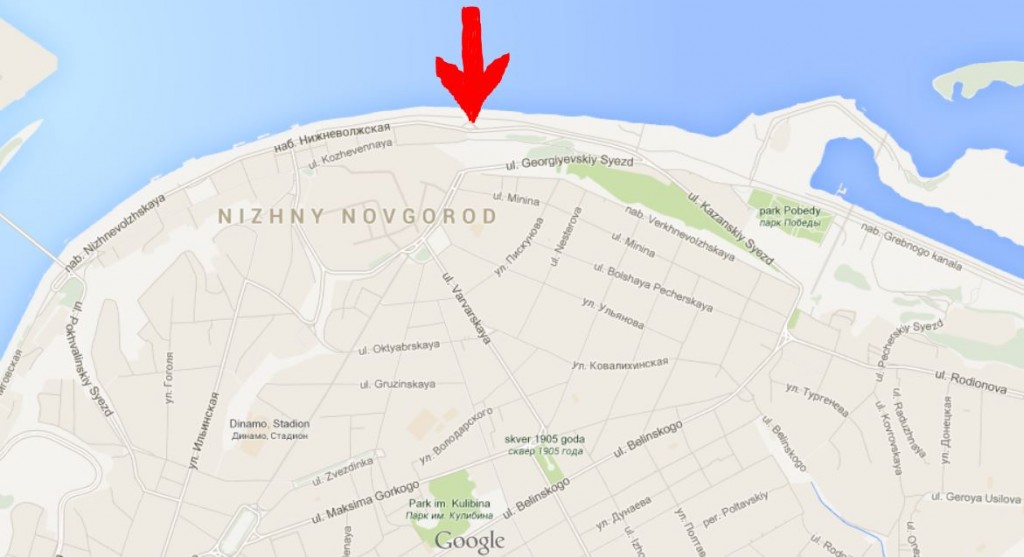 Below is a picture of a monument at the top of the stairs: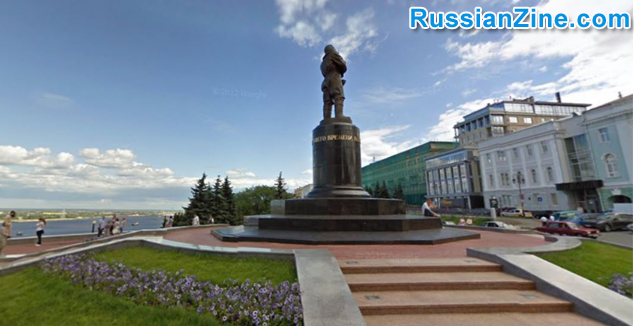 SHOPPING
TSUM (ЦУМ) (Stands for Central Shopping Mall) Filchenkova 10, across from the Moscow Train Station. Six floors of good shopping, centrally located. I wouldn't necessarily make a special trip here, but if you're in the area it's definitely worth popping in. (Note: There is a TSUM in every city in Russia and the former Soviet Union, and that holds true for every Tsum: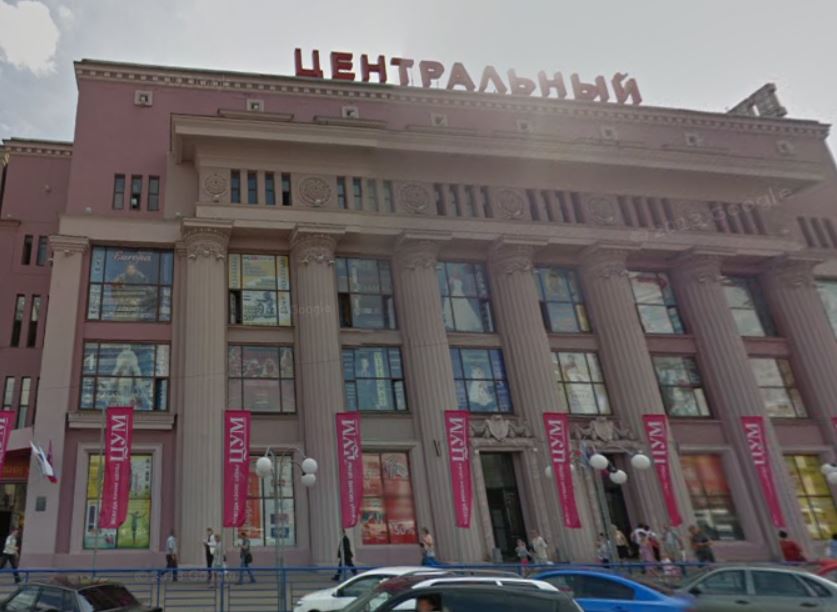 If you're in the area, it's worth stopping in.) http://www.csum.ru/
FANTASTIKA Mall Located at: ул. Родионова 187-В
Fantastika is a combination shopping mall and entertainment complex, with bowling alleys, a movie theater, a kid's zone, and all the usual stores.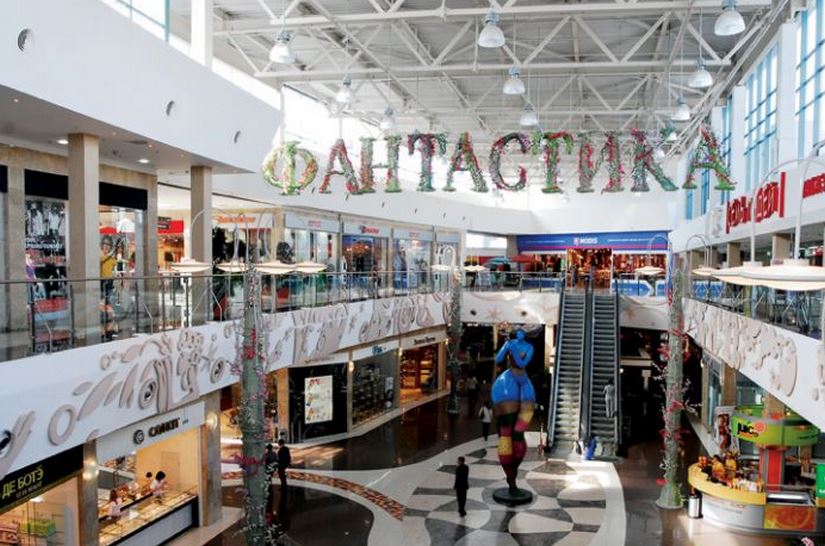 Check out their site for more details:
http://www.fantastika-nn.ru/
MEGA Mall
Their name says it all.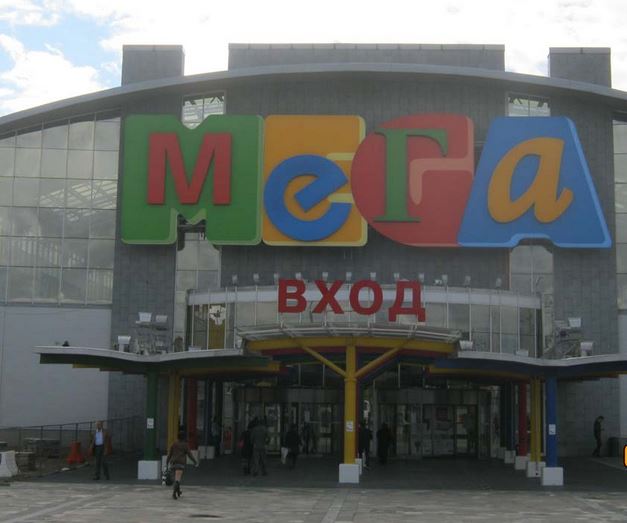 Although their site is in Russian, you can see all shops they have here: http://megamall.ru/nn/shops/
Honorable mention in shopping should go to Nizhny's…
Yamarka (Exhibition Hall) It's the largest in Russia, and there you can find (if need be) everything from the largest tractors to the smallest lightbulbs. It's one street off the Volga, and centrally located, so it's worth checking out. http://www.yarmarka.ru/content/photogallery.html
Clubs & Evening Entertainment
Most of Nizhny's nightlife is on their main walking street, Bolshaya Pokrovskaya.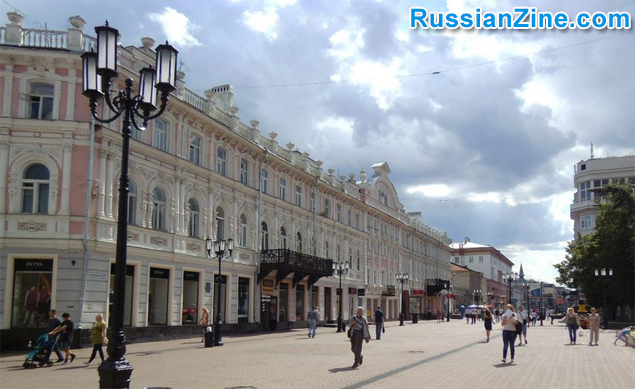 Take a walk and see what's happening the night you're out. The most popular club on that street seems to be…
Biryozka Bar (Biryozka is the Russian word for the birch tree, which evidently the club is made out of.)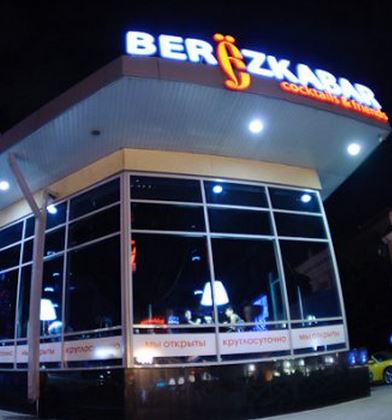 When it's busy, the club is a blast. Great music, great drinks….but relatively pricey.
Bessonitsa (Insomnia): This club is very simple, but that's part of the attraction and part of the fun. They're located on Osharskaya St, Bldg 1. (ул. Ошарская , д. 1 ) Since they're off the strip, as it were, their prices are commensurately lower. And speaking of getting off the strip, you can try this bar…
Californian: Located at Lenin Prospect, 36, the Californian is a longish taxi ride away (across the river from the center), but there's a fun vibe there. They have a great menu, so consider them as a way of starting your evening, before heading back to the center for more serious clubbing. http://californiann.ru/
Finally, "Z" top of "z" food chain in Nizhny's nightlife scene is…
Z-TOP Club: This will be your most expensive night out, but also your most glamorous. Watch out, of course, for Face Control here. As for prices, we paid $15 or so (each) to get in, but that's merely the basic entrance fee. VIP entrance is more than twice that.
http://mobile.ztopclub.com/announcements
OFF THE BEATEN PATH:
The Rukavishnikovy Estate, on Verhne-Volzhskaya embankment, is definitely worth a visit. It's one of the most beautiful buildings in Nizhny Novgorod.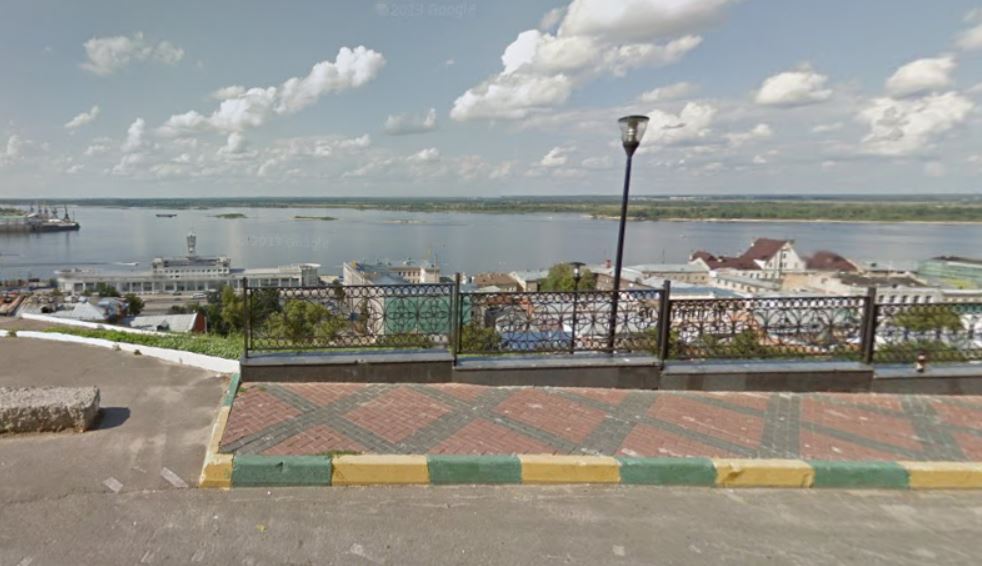 (I'd show you pictures except you need to pay for the priveledge, and even then it seems you can only take photos in two of the rooms. Maybe leave your camera at home and buy a postcard instead like we did.) The front stairs and the ballroom are particular standouts.