Why Travel to St. Petersburg, Russia?
WHY VISIT?:
The beauty of St. Petersburg is reason enough to visit, but that it's home to the Hermitage – a museum rivaled only by the Louvre in Paris – vaults it into Must-See status.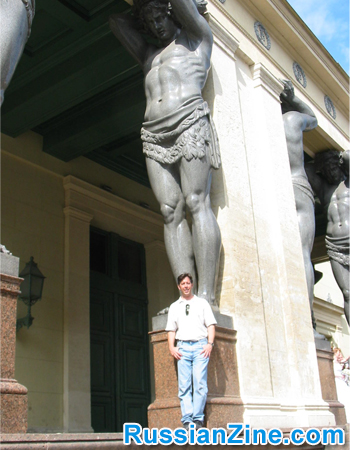 HOW TO GET THERE:
You can of course fly to St. Petersburg. But since it's located on the Gulf of Finland in the Baltic Sea, you can also visit on one of the many cruise lines that visit the city. (Royal Carribean, Princess, and Cunard being three of the biggest.)
WHERE TO STAY:
Compared to Moscow, the prices in St. Petersburg are much more reasonable. Although I still prefer the value, flexibility, and "local feel" of renting an apartment, I'm considering a hotel on my next visit. The Corinthia Hotel St Petersburg, a five star hotel, looks like a particularly good value with rooms seeming to go for less than $200/night. I'd also consider Grand Hotel Europe (you can't beat its location in the center of Nevsky Prospect.), and the SAS Radison. But as always, to find an apartment to rent, just Google "St. Petersburg apartments to rent" or a similar search term. Just make sure you're within walking distance of Nevsky Prospect.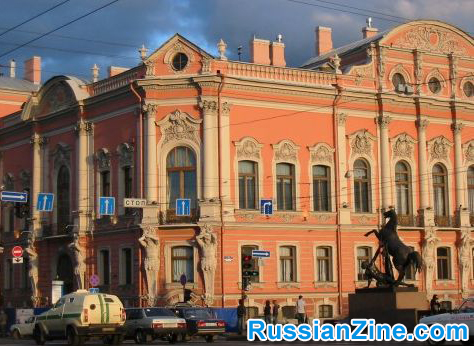 BEST PLACES TO EAT:
St. Petersburg's cuisine is getting much better. Along with the standard Russian fare of the meat and potatoes variety, you can now find a broader array of dining experiences there.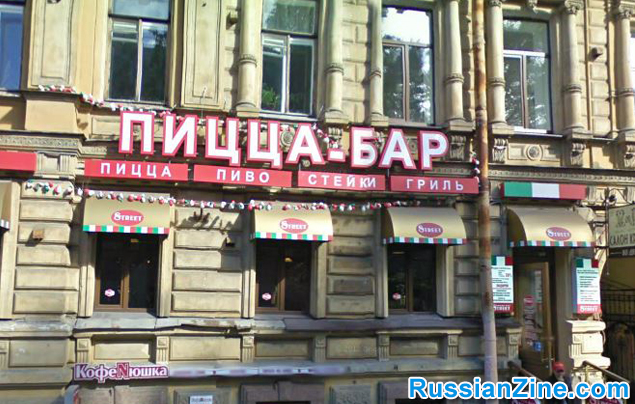 For a quick bite, stop in one of the pastry shops on Nevsky Prospekt for a sweet treat. Or, for a fuller meal, check out one of these places…
The Idiot Cafe: (The name is based on a Dostoyevsky novel.) Try the borscht. (If you've never had it, borscht is beet soup. It tastes  much better than it sounds.) When I visited, The Idiot cafe was offering a free shot of vodka with your meal, though I'm not sure if that's a long running offer. (82 Moika Canal, near St. Isaac's.)  http://idiot-spb.com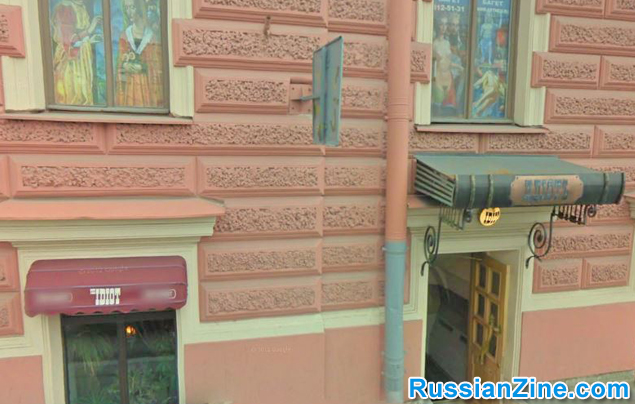 Teplo: Teplo is the Russian word for "warm" which is a good description of the feeling here. It feels very homey. I always ordered their delicious potato pancakes — which come with Buko cheese, red caviar and smoked salmon.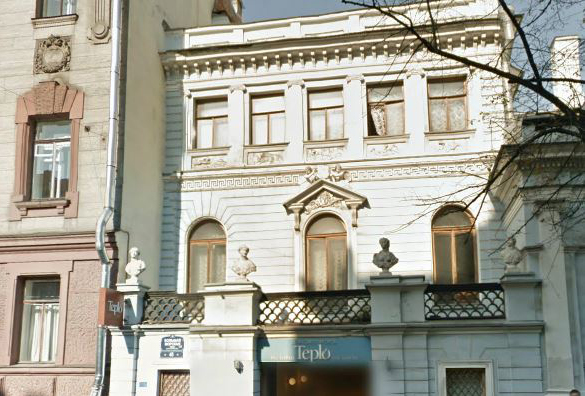 (Remember to tell the waitress: "Mmmm! FKUUS-nuh!" which means, "Delicious!" in Russian. You'll get an equally teplo smile!) I'm including a shot of Teplo from the outside, so you know what you're looking for. And here's the address: 45 Bolshaya Morskaya Ulitsa, next to the Vladimir Nabokov Museum. Oh, and here's their menu in English… http://www.v-teple.ru/cafe/menuenglish/
Stolle: Stolle is the best place to get pies in the city, though not just fruit pies. Russians also love meat pies and other varieties. Here's their site in English, with directions to one of their many locations in St. Petersburg. http://www.stolle.ru/en/spb/menu.html
Sever (СЕВЕР): This little place (at 44 Nevsky Prospect) is easy to miss, but it's across the street from Nevsky's main shopping area, Gostini Dvor (that long yellow building. See photos.) It's a classic, Soviet-era cake shop and worth waiting in the inevitable line.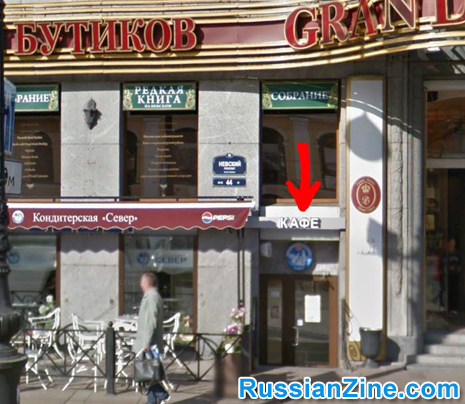 The Hermitage Cafe(s): It's worth noting that there are indeed cafes located inside the Hermitage Museum. This is important because, since the museum is so gargantuan, it's comforting to know you don't have to leave it to get food. And another plus: One of the two cafes there offers internet service. That's always a great Facebook post to make…"Hey guys, guess where I am right now!"
HOW TO GET AROUND:
St. Petersburg has an excellent (and cheap) subway system. But unless you're traveling with a friend who knows Russian, it's best to learn to read Russian's Cyrillic alphabet before you go. (You can learn to read Russian in a weekend.) Short of getting to one of the palaces outside the city limits, the subway will suffice for just about wherever you want to go. If you prefer to travel by taxi, make sure you catch one from one of the hotels on Nevsky. It's sure to be metered, ensuring an accurate fare.
WHAT TO SEE & DO:
Reading the list below, you'll see any emerging theme: People come to St. Petersburg most of all for culture and art. Cathedrals, museums, sculpture parks and so on…this city is a mecca for art-lovers. And it all starts with…
The Hermitage: I'm sure I'm preaching to the choir here, but it bears repeating: St. Petersburg's Hermitage museum is an absolute world-class institution. It's worth visitng for their collection of Rembrandts alone. Most guidebooks will tell you to brace for crowds, but is that any different than at any of the world's best museums? The crowds at the Hermitage are no bigger than at the Louvre, the Vatican museum, the Met and so on. And honestly, the crowds are only a discomfort in those few super-popular areas like the DaVinci room. For more information (in English) here's a link to the museum's official site: http://www.hermitagemuseum.org/html_En/02/hm2_10.html
(Church) Savior on Spilt Blood: This is the one you see in all the pictures, with the colorful onion domes, reminiscent of St. Basil's in Moscow.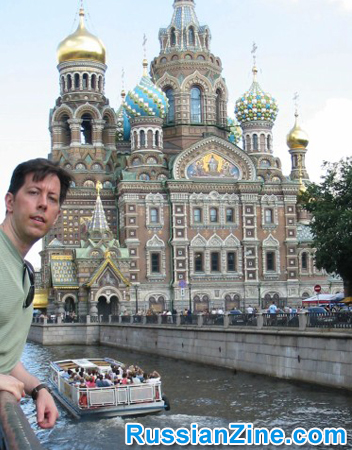 Though not directly on Nevsky Prospect, you won't miss it as you walk the street. It'll be just down a side street (and along a canal) to your right as you approach the Neva River. Make the trek up to and around the cathedral itself. There's a very photogenic bridge on the opposite side.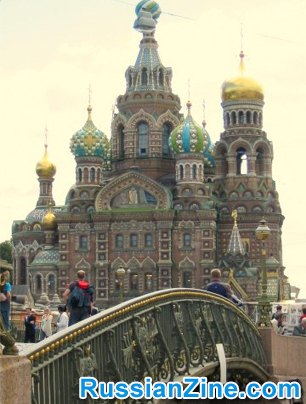 St. Isaac's Cathedral: If you're only going to enter one cathedral in St. Petersburg, this would be my choice. (The runner-up being the Kazan Cathedral mentioned below.) Be sure to get tickets so as to go up to the cupola up top. It offers a great view of St. Petersburg.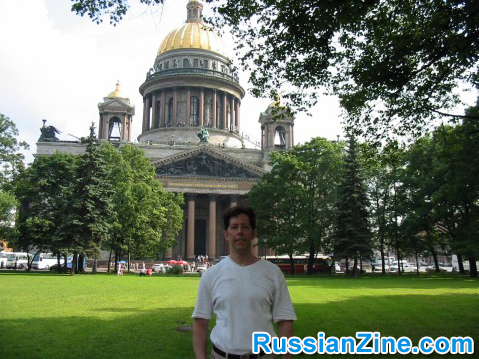 Kazan Cathedral: This doesn't actually seem like a cathedral from the street. With all those columns, it looks more like an official building of some sort. (This was before I'd traveled to Rome, and realized they were imitating St. Peter's cathedral at the Vatican.) There never seems to be a line to get in to the Kazan Cathedral, so I'd pop in almost every time I walked past, to cool down, and marvel at the size of it. If you're lucky, you'll catch a choir singing in Russian!
Russian Museum: Didn't get your fill of masterpiece artworks? Then head over to St. Petersburg's Russian Museum featuring, as the name suggests, only Russian art. http://www.rusmuseum.ru/eng/home/
Peterhof: About half an hour or so outside of St Peterburg is one of Peter the Great's palaces called Peterhof. The fountains all over the grounds are all photo-worthy, but watch our for the hidden one along the main path. Peter had a playful sense of humor and would drench unwary visitors by turning on the fountains as they approached. You will see people lining up with umbrellas, waiting for those to be turned on, especially on hot summer days. But fountains aside, the interior of the palace is the real spectacle. Take a tour…and take lots of pictures. Here's their official site in English: http://peterhofmuseum.ru/?lang=eng
Peter and Paul Fortress: Of all the tourist sites in St. Petersburg, you could probably skip this one. Some would disagree and consider it a must-see, if only for the cathedral on the grounds where the Tsars are buried. I'm simply saying, if time is short, this is probably the place you can save until your next visit.
Summer Gardens: After leaving the Hermitage Museum (also known, by the way, as the Winter Palace), head towards the river (just behind the museum) and turn right. That road will take you to the summer gardens.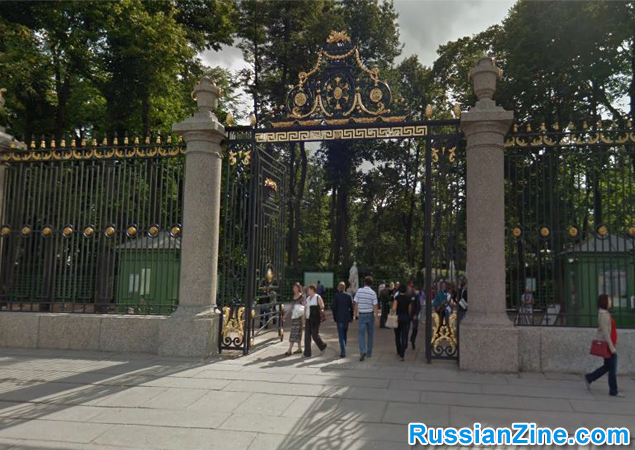 (Look for the gates in the photo.) Grab an ice-cream from one of the sellers in the park and wander the paths admiring – you got it – more art.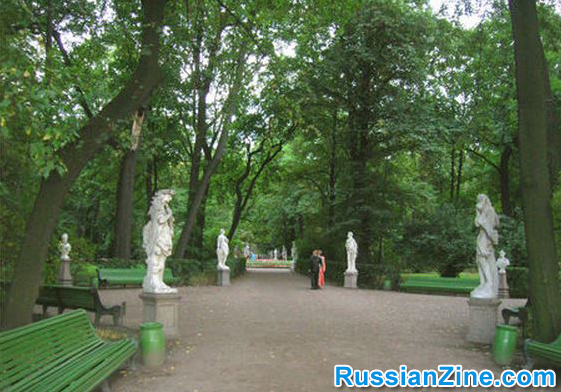 Sculptures, this time.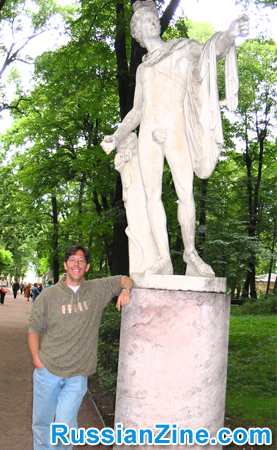 This park, more than anything else in the city, symbolizes St. Petersburg to me: Art everywhere you look. The romantic river and canals. People sitting and reading (St. Peterburg residents are extremely literate as are Russians in general).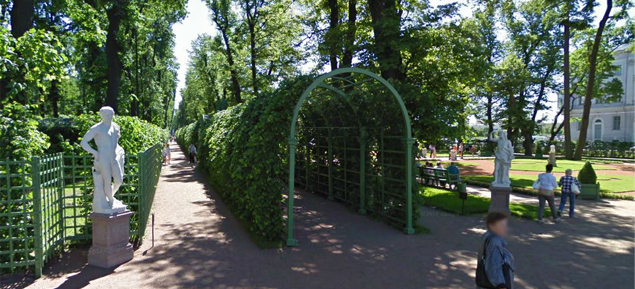 Shopping: St. Petersburg has a sufficient amount of places to shop, though being 1/10th the size of Moscow, they understandably have 1/10th the number of malls. Here, though, are the two main shopping centers on the strip…
Gostini Dvor: This isn't a mall in the western sense, so it's worth going in even if you're not shopping for anything.
Stockman (aka: Nevsky Center): Though not particularly striking from the outside, this six story mall on Nevsky offers a classy shopping experience. Along with clothing stores and the like, you can also find a spa here, a gym, roof top restaurant and a supermarket in the basement. (For a quick feel for the stores there, here's a link to their site: http://www.nevskycentre.ru/floor1/ )
Bars & Nightclubs: St. Petersburg doesn't have as much of a Face Control issue as, say, Moscow, but you'll still encounter it. (Go here to read about Face Control.)
Metro: Without a doubt, this is my top choice for partying in St. Petersburg. The uncreative name is its only weak spot. Check out their site for a better feel. It's in English… http://www.metroclub.ru/index.php/en/
Red Fox Jazz Club:  Not all nightlife needs to center around dancing to techno music. If you'd prefer to sit and listen to excellent live jazz, I'd recommend St. Petersburg's Red Fox club.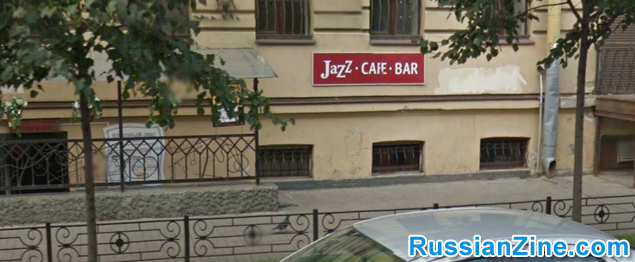 Be aware: It's easy to get to, but hard to find (because the club and their sign are fairly small.) (See the photo to know what you're looking for.)  Address: Chernyshevskaya metro station, Mayakovskogo St., 50.
And their website in English: http://rfjc.ru/about-in-english
Money Honey: In this "saloon" you can get good eats, and hang with your buddies playing pool or hanging by the fireplace. I'm not sure I understand how the name connects to the atmosphere in the club (cowboy themed) but if you go to their site and scroll down, you can see pics of their faux-western design. http://www.money-honey.ru/o-klube  (Address: Sadovaya Street, 28/30, Corpus 13)
OFF THE BEATEN PATH:
You'll need your walking shoes for this, but for a unique experience of St. Petersburg, take a stroll through the "Neighborhood of Dostoevsky." It's an old town area in the district called Admiralteisky, near Hay Square. There you'll find old houses and streets, Venice-like canals (Griboedov, Moika, Kriukov), and the "spirit" of Old Peter.